We recently had the pleasure of welcoming Sung Ho Kim 'Max' into the Customer Service Co-op program at Greystone. He wrote a journal about his experiences and we'd like to share it with you. If you're curious about the program this is a great first hand account of what it's like to be a student in the program.
'Hello, I am a student at Greystone College and  I am going to post an account of my time in the Customer Service Co-op program. I hope this posting helps students who are interested in the program.'
We hope so too! Thanks Max.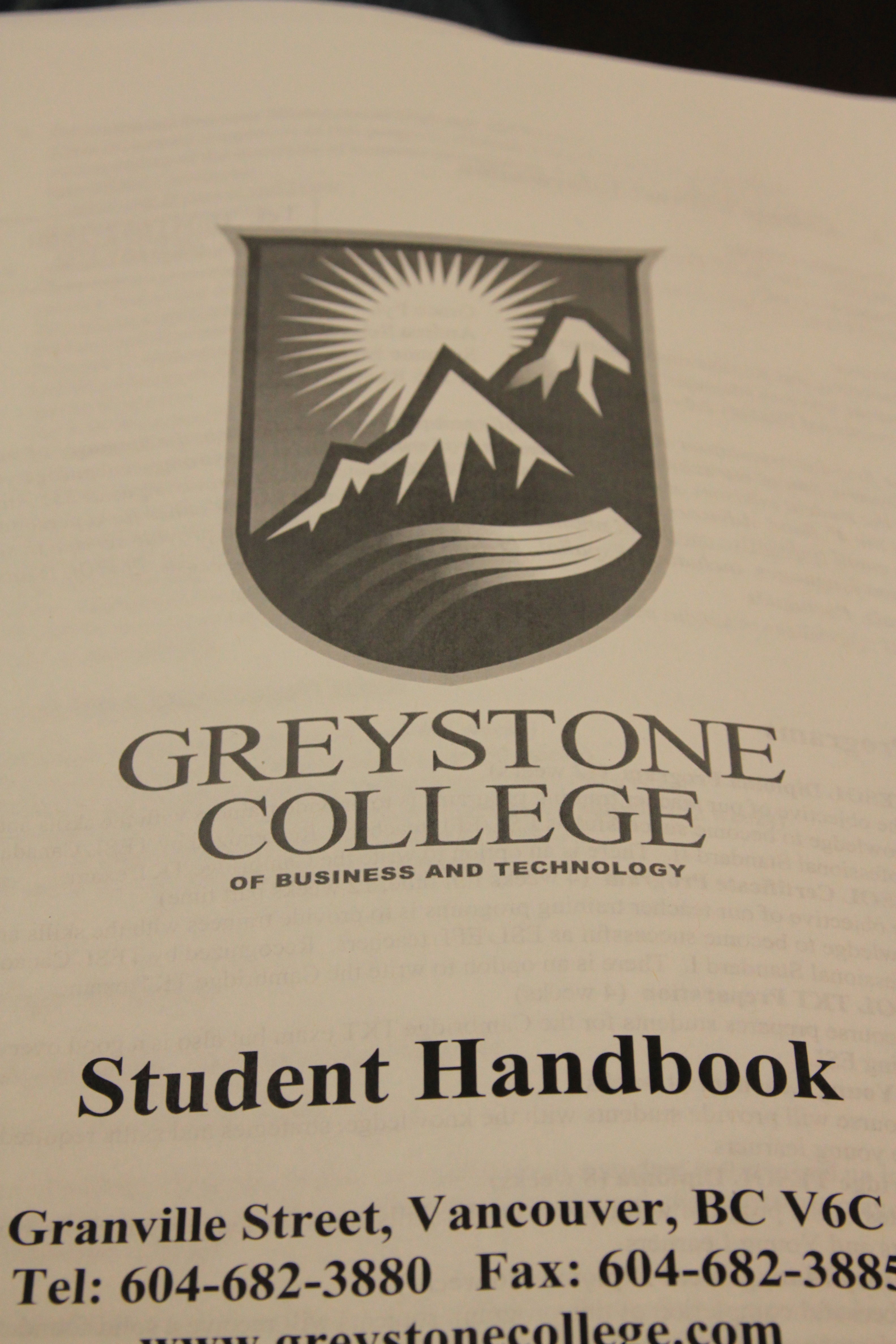 'The first day of school, I went to 560 Granville Street, in Vancouver at 8:15 for the Orientation. The orientation took around 40 minutes; I was told about the rules and basic information about the college by Grace [The Director].
8:15 is definitely an early start. Luckily, Greystone College is conveniently located. It's right next to Granville Skytrain station and is along several major bus routes.'
We ask new students to attend orientation on their first day because we want to make sure they understand what is expected of them. We have high standards for our students because we want them to excel. The orientation is a way for us to make sure we're all on the same page. We hope you want to excel too!
At the orientation, students also learn about the services that are available to them. For example, as a student at Greystone, you are eligible for a student ID that can get you great discounts in the city. You can also check out some of the activities available through our sister school, ILSC.
Finally, the orientation is a good way for you to get a sense of the other students at the college. There are so many different programs and we hope you'll make friends in all of them. We want Greystone to feel like a little community, a home away from home.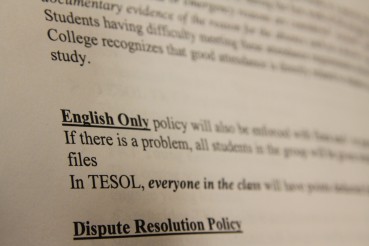 Greystone College has an English Only policy. Therefore no one can speak their own language at school. If you speak your own language you might end up getting a penalty.
This policy can definitely seem a little intimidating but it's in place to help you succeed. Our college is very international. Most students are here not just to learn skills specific to their field but also to improve their English. The best way for them to do this is to completely surround themselves in English. When we ask you to speak English and only English, it's not just about you practicing your English, it's also about making sure we provide the best environment for all our students. We recognize that this can occasionally be challenging but challenges are what help us grow.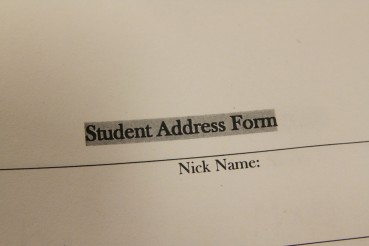 'Orientation was presented by Grace Pyo, the director. She is fun and energetic.'
You're right, Grace is fun and energetic! We are so lucky to have her. Because Greystone is a smaller college, you get to know all the people that make it run. The director is very hands on with the day-to-day operations. If you ever have issues, you don't have to go through a long line of people to get them resolved. Grace's door is usually open. Even if you don't have issues, Grace loves getting to know our students.
We strive to make Greystone feel like a little community. We do class mixers and host potlucks. We gather all the students together on graduation day so we can celebrate your achievements together.
Class began after Orientation, which was finished at 9am. We played a game to break the ice. Olesya, the teacher went first. "Hello, My name is Olesya and I am optimistic." Next, Yumin from Taiwan said " Her name is Olesya and she is optimistic and my name is Yumin and I am young" And then everyone introduced themselves. This improved the atmosphere of the class.  After that, we started studying "Workplace Communication", the topic for the next 4 weeks.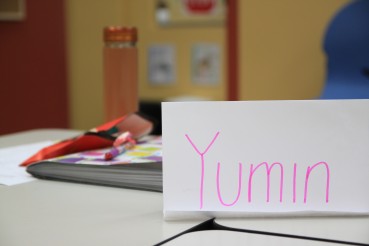 'Class times vary from program to program but in general, co-op programs run from 9 to 2:30 Monday to Thursday and from 9 to 12 on Fridays. On the first day of most classes, you will do some kind of activity to break the ice. Even though the co-op programs are six months of class work, they have continuous intakes. This means new students will join each month. You will be working on lots of group projects so it's important that you feel very comfortable with your classmates. Most classes are four weeks long and focus on one particular aspect of your field. For example, Workplace Communication is one class in the Customer Service Co-op Diploma.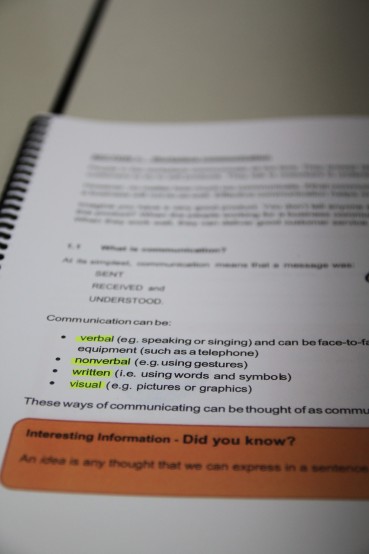 We learned "What is communication"
verbal – speaking or singing
nonverbal – using gestures
written – using words or symbols
visual – pictures or graphics'
Many of our classes have an emphasis on communication. Communication is such an essential skill in almost any field. Furthermore, when you are in class, you will be communicating with your classmates, who come from all over the world. We want to make sure you have the skills to work in multicultural environments and with customers from all over the world. When you can't find the word you want in English, you can use nonverbal or visual communication.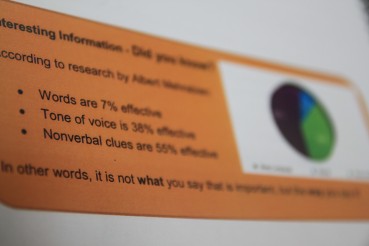 'Communication is not only words, pictures and video, but also gestures and facial expressions. Moreover, these work in combination when we communicate. According to research by Albert Mehrabian, nonverbal clues are 55%, the tone of voice is 38%, and words are 7% effective at communicating a message.
In other words, it is not what you say that is important, but the way you say it.'
This is a really valuable lesson. Many of us are not aware of the unintentional messages we are sending with gestures, facial expressions or tone of voice. The program aims to make you an excellent communicator in all aspects of communication.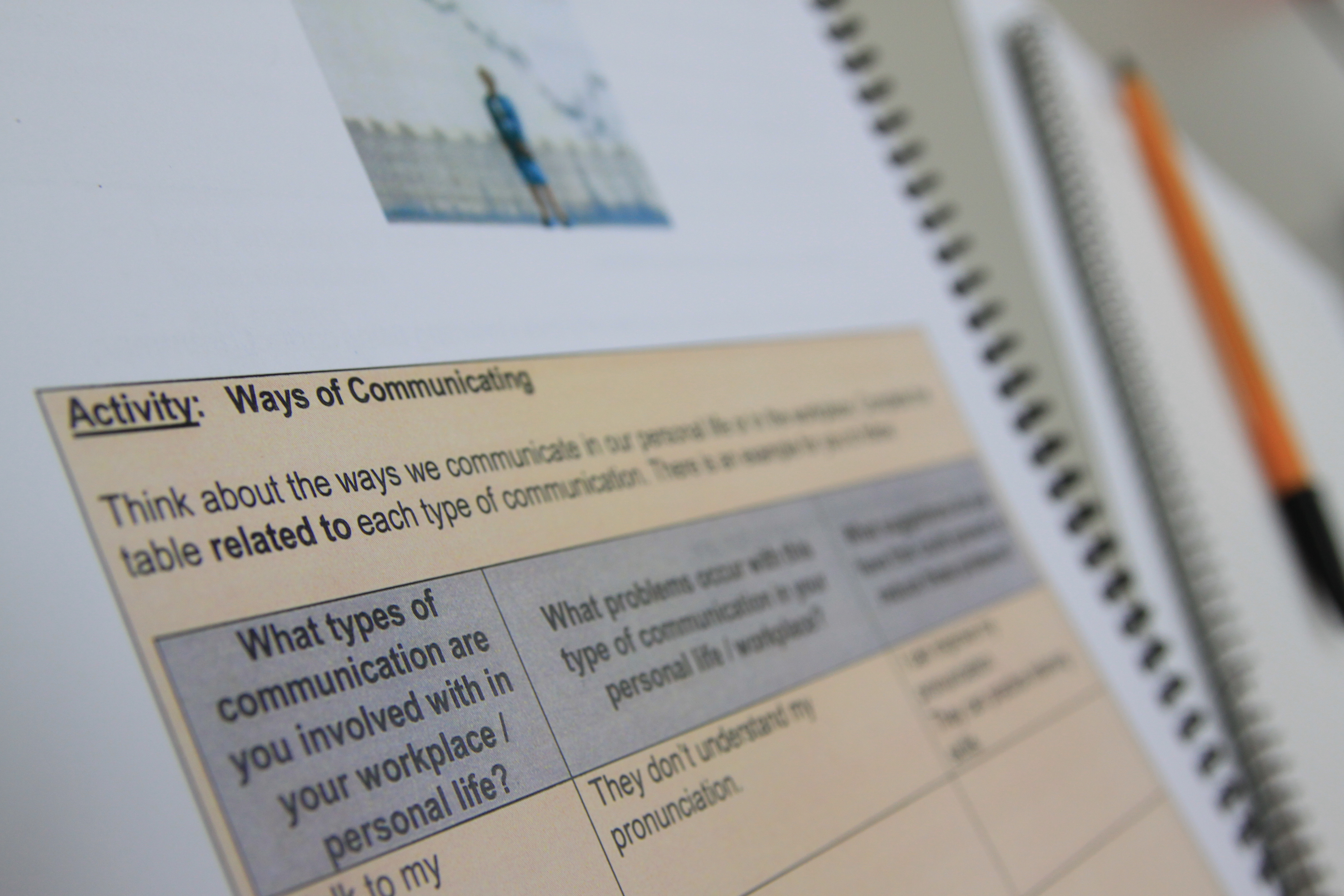 'I did an activity with Carlos from Mexico. We brainstormed about types of communication in the workplace and also about what types of problems could be caused by each type of communication. We discussed solutions. This activity was really practical.
We're glad you found the activity practical! Our goal is to make all our courses as practical as possible. You'll answer lots of questions based on real scenarios. You'll work on lots of projects that emulate real life. Whenever you learn theory, you'll have a chance to apply it to practical tasks.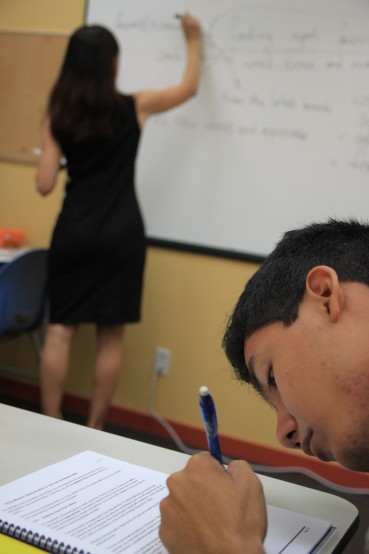 'Carlos is only 18 years old but he studies really hard!'
Greystone students are all different ages and with all different personalities but they share the common traits of being hard workers with big ambitions. Keep up the good work, Carlos.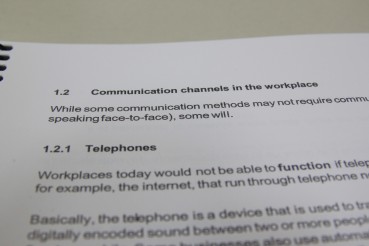 'The second day of school, we learned about communication channels in the workplace. These include telephone, fax, technology components, and stationery.'
There are so many ways to communicate! It's important to pick the right channel for your message and for your situation.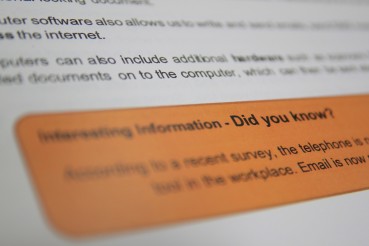 'According to a recent survey, the telephone is no longer the preferred communication tool of the workplace. Email is now more popular than phone calls.'
Technology has actually changed the way we communicate. Twenty years ago, no one knew what a blog was and now people all over the world can read Sung Ho's. It's pretty amazing.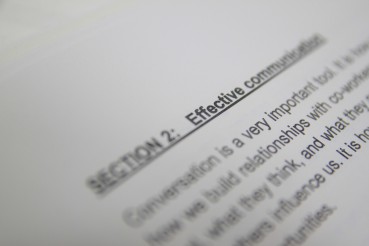 'Effective communication means the sender sends a message correctly and the receiver gets the message and gives the sender feedback.'
Most of us probably think we know exactly what communication is but we often forget to take into account the role of the receiver and of feedback. Do you have any feedback to gives us about this post?
'We never learn how to communicate with people. It is usually considered a natural ability. When I learned how to communicate effectively, it was an eye opening moment.'
We're glad we could provide you with an eye-opening moment. Many students find that the courses at Greystone really force them to challenge their beliefs and assumptions and that they come out more open-minded.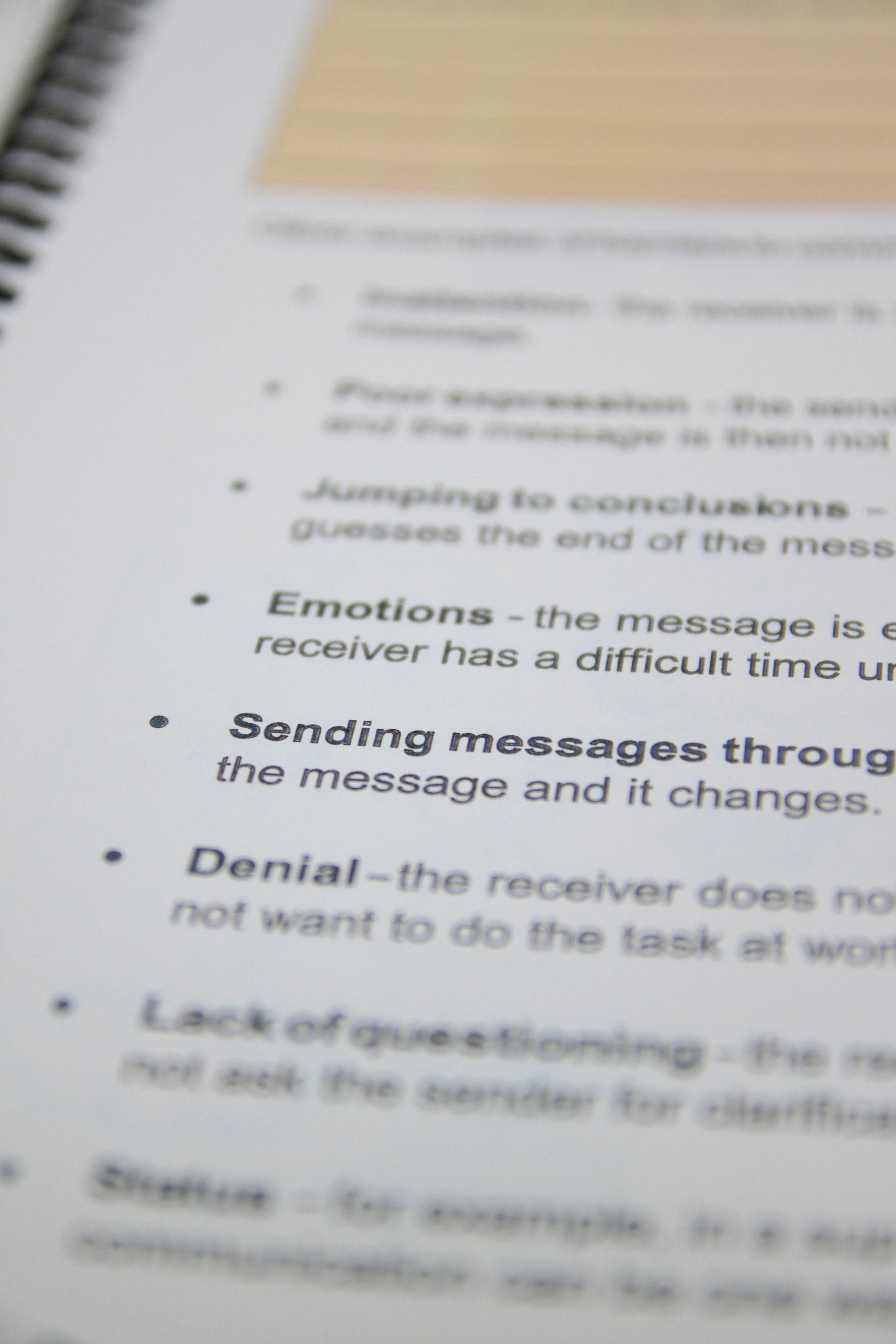 'There are a lot of possible problems when we communicate, such as "jumping to conclusions", "value judgment" and lack of questioning" . I think if all of us learned about these things, we could communicate a lot better! Moreover, it would help us to work more effectively and efficiently.'
Absolutely! Communicating effectively is probably one of the most challenging things we do yet we need to communicate every day in all kinds of situations. Luckily, it is definitely possible to improve your communication skills.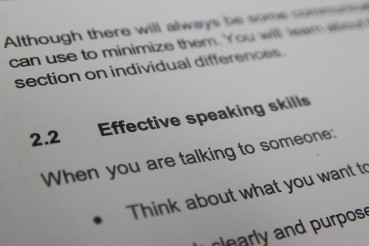 'We need to know certain skills to communicate more effectively. We need to know how to send a message and how to send a message correctly. Here are a few tips:
Think about what you want to say before you speak
Speak clearly and purposefully – avoid unnecessary words
Be specific
Keep your speech at an even speed
Use the correct volume for the situation
Vary your tone of voice
Be careful of too many "fill-in-words"
These tips seem so simple yet we so often ignore them in our rush to get our message out. It takes practice to integrate them into your daily communications. Thanks for the reminder.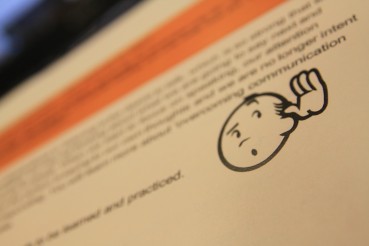 'If you want to speak better, you have to listen better. Olesya prepared the TED TALK video "5 ways to listen better". Watch the video below:

'I will be back with "Individual differences In communication" Bye!~'
Listening is such an essential part of communication but most of us hear but don't really listen. Just like the rest of communication, active listening is a skill that has to be learned and practiced. Luckily, you'll do a lot of this in the program.
Max, thanks so much for sharing your experience with us. We look forward to hearing all about the rest of your time with us. Best of luck in your future endeavours.
Stay tunes for more blog posts from our student.
Read part two.
Blog also available in Korean language: http://k124687.blog.me/