Recently we got a chance to interview Enkhbat Batbileg, otherwise known as Eddie, one of our Brisbane students who started his journey at ILSC, improving his English, and then decided to continue his learning path at Greystone College, Brisbane.  A few months ago, he started a Certificate IV in International Trade (CRICOS Course code BSB4115), the next step in an exciting journey. Find out what inspired Eddie to come to Australia, what he's experienced so far, and where he's heading next.
What were you doing before this and what made you decide to come to Brisbane?
I graduated from the National University of Mongolia with a bachelor of Political Science. One year after my graduation, I decided to come to Australia. I spent countless hours researching states and big cities in Australia that I could enjoy living in. I compared cities' pros and cons, and felt Brisbane was the most suitable place to live and study. After I arrived in Brisbane, I knew I did the right thing. There are many good things about Brisbane; it has good weather, a clean environment, very welcoming people, smiley faces, and so forth.
Why did you decide to study with ILSC?
In my mind, it's really important to find the best education provider if you're going to study something, and ILSC is definitely one of them. I have a friend who used to study at ILSC and he recommended this school and told me what a great experience he had. I took his suggestion and decided to join. ILSC-Brisbane was like my second home; the school environment, staff, and teachers are awesome, and the best thing was being with students from all over the world, gathered together, sharing one goal in their mind.
What inspired you to take the Certificate IV in International Trade (BSB4115) at Greystone College, Brisbane after completing your ILSC Language studies?
After graduating from ILSC, I asked myself if I wanted to take Business classes for my future and the answer was an instant, yes! Then, after I consulted with my parents, I decided to stay and continue studying with Greystone College, Brisbane.
Since business education is in high demand worldwide, and especially in Mongolia, taking International Trade at Greystone College is one of the biggest investments for my education and I'm really happy about it.
I've always been keen on business studies. Ever since I was a high school student, I've wanted to start up my own business. This may be because I'm really inspired by successful businessmen around the world. Additionally, I would be more satisfied if I run my own business. However, I won't say working for someone else is bad, it's still a good experience, too.
What have you learned so far in your program?
It's been nearly two months since I started taking my Certificate IV in International Trade (BSB4115). So far, I've studied some units such as "Marketing goods and services internationally," "Preparing business documents for the international trade of goods," and "Promoting products and services." I'm currently studying "Research international business opportunities."
Are you working off-campus during your studies?
Yes, I am. Just like many other international students, I do office cleaning part-time. I wouldn't say the International trade studies is helping me to do my part-time job directly, but this class has certainly developed my teamwork and communication skills, which is useful to communicate with my colleagues. So, I can say it's helping me in my work.
What have been your favourite moments of your Greystone classes so far?
There was a time when I was presenting about shipping goods from Mongolia to Australia; everybody was listening to my speech very carefully and said they really enjoyed learning about Mongolian brand items related to our culture. That day I thought to myself that people might actually be interested if there are any goods related to Mongolian culture brought into Australia. Maybe someday I'll bring Mongolian goods to merchandise here, you never know.
How do you see your Certificate IV fitting into your future career and/or life goals?
This is a field that I expect will be both challenging as well as rewarding. It is safe to say that every industry is related to business, and as I mentioned before, I would like to start my own business at some point. So, I thought I needed this course and it doesn't disappoint. To achieve what I want, I want to build a solid knowledge of communicating, forecasting skills, and reality-based decision-making, rather than relying on general knowledge.
What are your most memorable moments from your time in Australia so far?
There is one moment I really enjoy remembering. For some people, it might sound like it's no big deal. However, before I came to Australia, I never saw the ocean, since Mongolia is a landlocked country. After I came to Australia I wanted to see the ocean with my own eyes and I went to Noosa beach with my new classmates. There we were, standing next to the ocean, and that moment was breathtaking.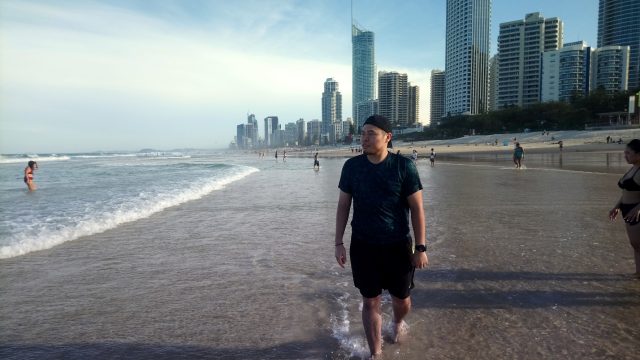 When you're not studying, what are your favourite Brisbane hangouts or city sights?
I like to go for walks around the city, especially walking along the riverside. It is somehow very relaxing for me. When I'm with my friends, we tend to play games such as bowling, table tennis as well as billiards. Once in a while, I like to go to theme parks or go camping.
What advice would you give to students considering the Certificate IV in International Trade (BSB4115) in Brisbane?
My suggestion is that you need to have a passion for what you're studying and what your dreams are. You've come this far, so learn as much as you can. Your future is in your hands and no one can ever take your knowledge.
Lastly, surround yourself with positive people and don't forget to have fun when you're in Brisbane!
It was great to hear about Eddie's experiences so far at ILSC and Greystone College, Brisbane. After completing his Certificate IV in International Trade (BSB4115), Eddie plans to continue with a Diploma of International Business (BSB50815), and a Diploma of Project Management (BSB51415) to round out his business skills, and prepare him to achieve his dreams.  And of course, all of those learning experiences will help him in class, at work, and at play in Brisbane, Australia.
Are you feeling inspired?  Learn more about the Certificate IV in International Trade (BSB4115)  and start your own learning journey with us. We'd love to see you at Greystone College, Brisbane!