In December, we had a chance to speak with Sergio Corrales, a Greystone College student who studied International Business Management at two different Greystone College Canada locations before embarking on an adventure to New Delhi, India. Sergio started his Greystone College studies in Vancouver, then went to Montréal to take the school's first ever program, the Attestation in College Studies in International Business Management.  That program includes a 4-week practicum where students get to put their new skills into practise. With a year of Canadian work and study experience under his belt, including time supporting ILSC-Vancouver and ILSC-Montréal, Sergio decided he wanted to do his practicum at ILSC-New Delhi.
In the final segment of our three-part blog series, we share Sergio's experiences during his 4-week practicum at ILSC-New Delhi, in India.
What made you decide to go to New Delhi?
I didn't think about India before. I love to travel. I really love to have different experiences. And When I was thinking about my internship, I wanted to do it in ILSC, but I thought, why not try something different. I worked with ILSC for 1.5 years, and I did a lot of things in Montréal, and I felt I could be connected to Delhi. I was trying to think outside the box. And, of course, I wanted to experience something that was very different from Canada and from Colombia as well. As soon as I arrived to Delhi, it was completely a contrast, Delhi is another thing completely.
You worked at ILSC-Vancouver and ILSC-Montréal. How was your practicum at ILSC-New Delhi different? 
ILSC-New Delhi is a small school. It's nothing compared to Vancouver, where there's a lot of campuses. Delhi is only one little campus.
The team is very small, so I multi-tasked a lot, because when you're a small team you help everybody, and everybody does everything, which I liked. It was a very good experience because I learned to do admin, I helped in IT, in Marketing, Contracts, Reception, Payments, and Receipts. So, I learned a lot of things; I didn't only focus on marketing, which was my main focus, but I also helped the school in other ways.
What was the Indian work culture like?
Well, a small team is also a good thing because it's like a family. My co-workers are very good friends; everybody is like a family. I love the Indian culture, they sit at lunch time, and everybody brings their homemade food, and they put the food on the table. They open it and from that moment, everything of the food is yours; you just share. If you don't share your food with people, it's considered rude. So, you have to share and you have to eat with everybody, and the food is delicious. For me it was an amazing experience.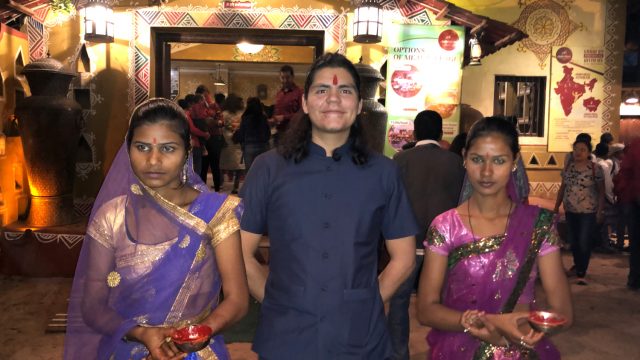 What were your favourite places and activities in New Delhi?
I did so many things. I went to many markets; the markets are amazing; everything is street food and it's very nice. Everything is made there, and everything is local. If you want to see American or German or Japanese brands you need to go to a specific place. But most of the city is very traditional.
Did you do any excursions outside of New Delhi?
I took a road trip with two friends that I made in Delhi; they were students in ILSC.  One of them, her name is Sonya, she's Swiss, and she was my roommate, too.  And the other was Lavinia; she's Italian. We went to Agra and visited the Taj Mahal, which was beautiful, and we spent a day there.
Then we went west to Jaipur, a very nice city. It was in another state, 4-5 hours' drive to the west. Basically, it was a desert. I saw a lot of camels, a lot of elephants everywhere in the streets, and a lot of monkeys. You know India shares everything with the animals – there are cows, dogs, cats, pigs, elephants, monkeys, rats, sheep, goats, everything! Everybody shares the same street with the animals.  Then I went back to Delhi. It was just a weekend because, of course, I was working weekdays and my friends were students. But it was a very nice trip.
Then, during my last days I went to Varanasi with my friend Lavinia. I highly recommend it if you're into spiritual things and the Indian culture.
Varanasi is a very small place but 2-3 million people are living there. You feel like the city is isolated by its culture. In the Hindi culture, they believe that if they die next to the ganga river [or Ganges], they skip all the steps after life, and go directly to Nirvana. So, people from everywhere in India go to Varanasi – they want to die there.
By the Ganga river, there are some places called Ghats. There, you can see everybody on the streets carrying their [deceased] family members' bodies. They scream the name of the God that this person believed in, and submerge the body into the Ganga, and then they change the clothes, putting some white blankets and burn the body there. So that's the final step. It was a very beautiful experience, honestly. We stayed there for 3 days, and every night they do ceremonies. It's a very nice experience.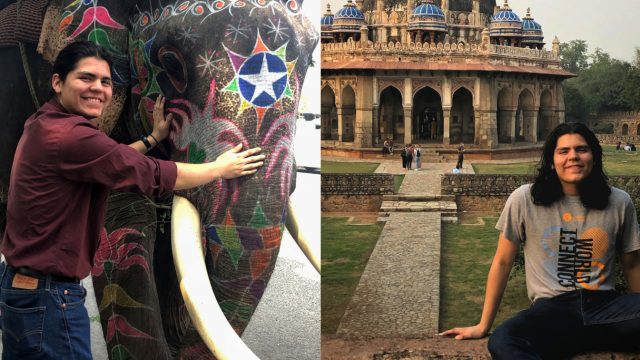 Where do you want to travel to next?
I set a goal for myself: I want to live in every major city of Canada. I did Victoria, Vancouver, Montréal, and Edmonton. I want to go to Ottawa, Toronto, Calgary.
With my brother, I'm going to go to Quebec City, Toronto, and Ottawa. That's my short-term travel plan.
But after, I want to visit Italy. The main reason, honestly, is the food. I want to try the real Italian food. My friend Lavinia talked to me too much about food, and now I have to go!
I also want to go to Korea, because I'm really into the Korean culture, too. In Victoria and Vancouver, I met so many Asians, and made friends from Korea, and Japan mostly, and some Taiwanese. They taught me so much about their culture. I love their language, so I even started to learn the Korean language. I can read and write down the Hangul which is their alphabet, and I can have small basic conversations. So, I really want to visit Korea and Japan.
You obviously have a passion for languages!
Yes, I love to learn languages. When I came here to Montréal I only said "Bonjour" and "Merci," but I took two months of classes and studied by myself. And now, I'm not fluent, but I can talk, and I understand a lot of things. I have no problem with communication anymore. So, I love to learn languages.
My plan for 2024 is I will be fluent in Spanish (of course), English, French, Italian, and Portuguese. That's my personal goal, just for pleasure.
What's your plan after you finish at College Greystone Montréal?
I'm about to finish my final project. I'm working on it, so I hopefully graduate this year [2019]. Once I graduate, I will apply for a Post Graduate Work Permit (PGWP) , because my plan is to immigrate here to Canada.
Hopefully if everything works, I want to keep working in ILSC-Montréal. I've done several things within this company. I helped with the English policy. I'm also an activity coordinator, so I do a little tour, bringing the new students outside and showing them the city; how to move around; going to play bowling; going for a beer, karaoke, things like this. Also, when I was a student at Greystone I was taking pictures for social media.
I'm also an IELTS invigilator, so at least 2 Saturdays per month, I help with the IELTS test at the school.  I believe I'm doing a lot of things there, and I hope that I can keep going. I'm really into education, and I  really like to meet students. So, I want to keep going on that path.
It's a rare treat to get the perspective of a student who's studied at multiple locations with Greystone College, and Sergio certainly made the most of his many global and culturally diverse experiences. In case you missed our first two posts in this blog series, make sure to read about Sergio's experiences at Greystone College Vancouver, and his experiences studying at Collège Greystone Montréal.
Are you ready for a life-changing learning experience? Learn more about Greystone College, and create your own unique international learning adventure.