We recently had the opportunity to talk with one of our Greystone College students who has lived a truly unique learning experience.  Sergio Corrales, from Colombia, started at Greystone College Vancouver, completing a Diploma in International Business Management Co-op. He then went to College Greystone Montreal, becoming the 3rd student in the newly launched Attestation of College Studies in International Business Management.  And he rounded out his learning journey by travelling all the way to India to complete his program practicum at ILSC-New Delhi.  I'm sure it won't surprise you that he had lots of amazing stories to tell, and perspectives to share from his adventures across Canada, to India, and back again!
In this three-part blog series, we'll share highlights from each segment of Sergio's experience so that you can travel along with him and discover what life is like studying at Greystone College, working off-campus, and completing co-op and practicum terms. First up, Greystone College Vancouver.
How did you hear about Greystone College?
It was through my agent in Colombia. The first time I came to Canada was in 2016. I came with zero English. I started living in Victoria, British Columbia, and I started in an ESL school, and then went to the University of Victoria for 3 months, and I just fell in love with Canada.
So, I went back to Colombia for a few months, and my agent told me that there is a college called Greystone College and I could go there and I could study business. So, I said yes, I want to do it. I took the interview PROLA, and they said "yeah, sure, you can go." And I did the writing exam and the grammar exam, and they told me I was Intermediate 3. So, I did two months at ILSC-Vancouver and did Business English and then I went to Greystone College.
Why did you want to study International Business Management?
I like business, and I'm a person who's very open to learn about different cultures, and how people think about business in Germany, how people think about business in Japan, in Columbia, in Canada. I like to meet with people. I like to travel. And I find it very interesting how globalization is connecting the world. So, I felt like I wanted to do business.
Did you have a favourite class? 
I liked Accounting. For me, Accounting was very tough. I'm not a numbers guy, and the logic and everything was a challenge for me, but that's what I liked. Because I worked hard, and I challenged myself and I went out of my comfort zone. And even though sometimes I was freaking out for the final exam, I managed.
Can you tell me a bit about some of the activities you did outside of class and how they helped you learn?
In Business Law class, we went to the court to see some trials. We talked to the judge and she explained a lot of things about how the trials and the courts work in Vancouver. The nice thing is that I also took business law here [in Montreal] and I see the differences between the two provinces.
Your program included a co-op. Where did you work?
I did 6 months of co-op. I was an assistant manager in a Freshslice Pizza in Horseshoe Bay, West Vancouver – beautiful place, nice coworkers, very nice people. 
How did you get your Co-op position?
Actually, it was through my co-op advisor – she helped me get the contact. Omid, who was my manager, he talked to Greystone and said he's looking for people, and my co-op advisor said you know, if you're interested, you can apply. So, I applied. I called Omid, and I went for the interview and he said yes, you can come work with us.
I used to live downtown, so I took the express bus; it was around 45 minutes to 1 hour every day. At the beginning I was like, no, this is too far, I can't do that, but in 6 months I was totally used to it.
Were you also working another job through your off-campus work permit?
There was a time that I was doing 3 or 4 jobs at the same time, so I really took advantage of my work permit.
What about life in Vancouver? How did you feel about being a student in the city?
I loved Vancouver. I love the nature. I love how modern the city is. I really like that Vancouver has the sea, the mountains, the beach, and it's a very student-oriented, young city. I felt safe all the time.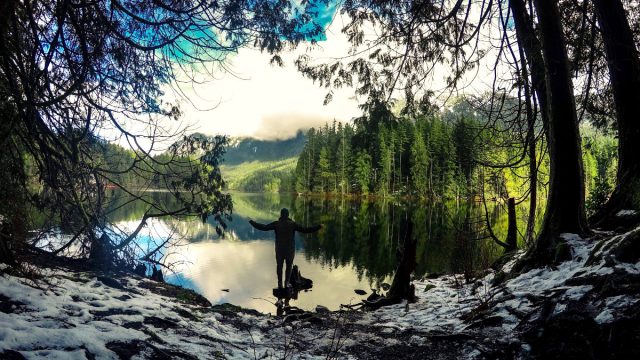 What was your life like outside of class? What kinds of things did you do?
I was doing Mobi [Vancouver's Bike Share program] every single day from school to work. I cycled 1,000 km in a year. I was living downtown next to BC place, and my friends were living downtown. So, I was going to Stanley Park, coming back, going to work, going all the time on the Mobi.  I met a lot of people and I created strong bonds, very good relationships. I made nice friends. I learned a lot of things. 
I also loved to go out of the city to do hiking. So, I went to Joffre Lakes; I went to Whistler; Buntzen Lake, Whytecliff Park, Deep Cove; I went to Lynn Canyon, and Capilano Suspension Bridge. All the hiking spots, everywhere, where I could hike and see nature, I was there, the whole year. Even during the winter, we went to do snow hiking.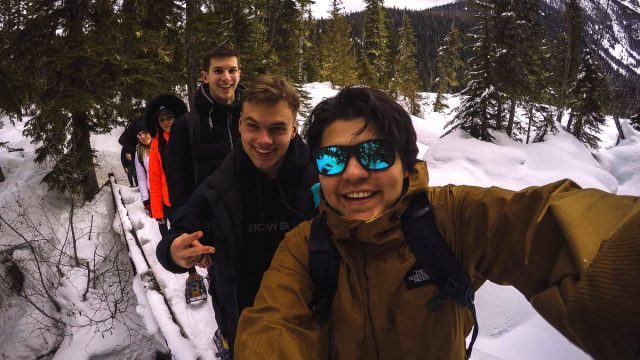 And the friends you made were through classes and work? Or did you build networks outside of that?
Yes, I did make networks outside. Of course, I made friends within Greystone and ILSC, because I also worked at ILSC. I was helping with the language policy at break time and lunch time, so I was there talking to people. Because my method is, I made them my friends first, so for example, saying "hey, how are you? My name is Sergio, if you need anything let me know, I'm here to help." And then they'd see me again and say, "Hey, hi, how are you," and they'd try to speak English, because I'm their friend. I applied that in Montreal, too. So, I made friends in ILSC, in Greystone, and in my workplaces. And also, outside, I made other friends, and they invited more friends.
Sergio definitely made the most of his year studying and living in Vancouver. Coming up soon, we'll be sharing Sergio's experiences studying at College Greystone Montreal. Stay tuned for more!
Does Greystone College Vancouver sound like the place you want to be? Check out our campus, and our list of programs, and come join us!