Most students are on a budget so I'd like to share a few free activities to do in Vancouver that won't break your bank.
1. Swim at Deep Cove
One of the most beautiful places I have been to in Vancouver is Deep Cove. It's situated in North Vancouver, not too far from downtown. Don't have a car? No problem! There are several buses you can take in downtown or in front of Waterfront Station that will take you straight to your destination in less than 45 minutes.  If you are ready to explore the trail to the famous Quarry Rock, this is the place for you. This is an easy hike.  If you don't feel like hiking, there are many other things you can do such as swimming and picnicking at the shore. The water can be rather cold on even a sunny day so check the weather forecast beforehand and dress accordingly. Personally, one of the things I found really great during summer time was picnics. But the best adventure you can have at Deep Cove I would say is going kayaking for an hour around North Vancouver. I tried and it was totally worth it!
2. Ride a bike among the seawall
Rent a bike at an affordable price and start your journey at Stanley Park! There are several places where you can rent double bikes, mountain bikes, rollerblades etc. If you really prefer to go with a group of friends for a great price, you can join the tours organized by Greystone College every week. The seawall is amazing. With several "breaks", it took me around 3 to 4 hours to finish it. Get inside the roads of Stanley Park and, or if you are doing it on weekends, you may be lucky to find some local artists who will draw a cartoon of you for a reasonable price. Feeling the breeze, checking out the sunset, looking at the little sculptures made of tiny rocks and riding your bike around several beaches can be a thrilling adventure.
3. Check out the Suspension Bridge at Lynn Valley
If you aren't afraid of heights you should check out the amazing suspension bridge at Lynn Valley. Who would not love a moving bridge? Lynn Valley and Lynn Canyon gives you different trail options to select. Feel like trying a trail that's challenging? You got it. When hiking around you will find out that all trails are connected to the suspension bridge. Want to stop and take a breath? There is a quiet place to sit by the river, the Twin Falls. Located at east of the Lynn Canyon suspension bridge, Twin Falls is the perfect spot to rest and can be accessed from either side of the bridge. If you want more information about the trails you can explore at Lynn Valley, check this link:
http://www.lynncanyonecologycentre.ca/park_trails.html
4. Enjoy the sunset at English Bay
Give yourself the opportunity to revel in the wonderful sunset while lying on the sand at one of the most beautiful beaches of Vancouver. If you don´t feel like doing that, you can always sit on the grass or benches. On the other hand, if you want to practice a little bit of volleyball, the beach comes with nets available to everyone wants to try it. You will love it!.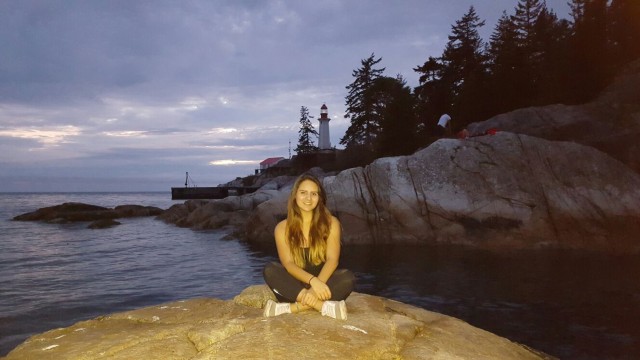 5. Go hiking at Lighthouse Park
One of the most unbelievably gorgeous places to visit and have a blast is Lighthouse Park. Situated in West Vancouver and public transit accessible from downtown, Lighthouse Park is definitely a place you must visit in any season. There are many trails to choose from in Lighthouse Park. Most are of easy to moderately difficult and provide access to most of the park. After you are done exploring the different beaches and enjoying the views next to the coastline, take a rest over a rock to admire the lighthouse before it gets dark. A short 10 minute walk from the parking lot will bring you to the Lighthouse Viewpoint. Get into the wild and explore several trails that will show you the best natural scenes ever in Vancouver. Walk through acres of first-growth trees that are considered to be giants. Take your time to look around and enjoy the incredible forest
For more information visit:
http://www.lighthousepark.ca/activities/
6. Enjoy the talent shows at Granville Island
Every single day will be a total new experience at this beautiful location inside Vancouver. One of the things I enjoy the most when I visit Granville Island is the artists doing their performances occasionally. Check out performances from magicians, singers or dancers while eating tasty ice cream with the view of the city on your side. If you are in downtown there are several routes of public transit you can select to visit this wonderful place. Don't feel like taking a bus for 15 minutes? Then you might like to walk across the bridge and enjoy the sunset while you are on it. The view is just amazing. Apart from the local artists, the number of produce and local artisanal food offered are amazing. Nothing better than buying fruits at a local market!