Is this your first Career Fair in Canada? You don't really know what to expect?
A job fair is your chance to meet a dozen of companies and maybe get interviewed, all in just a few hours!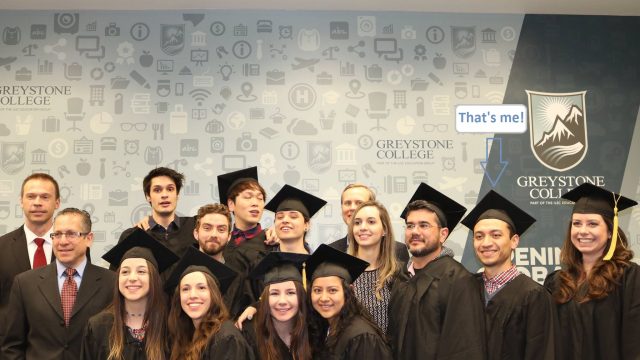 This is me Ricardo Martinez. You probably don't know me because I graduated on September 22nd, 2017 from the Diploma in Business Communication Co-op, and the experience was amazing! You are probably thinking "this guy is over exaggerating", but let's continue and get to the main point of this article.
I would like to tell you about my personal experience at Greystone College's Career fairs, how long it took me to get a job, and what the process like to get a job.
I am going to share with you some details about my day at the career fair. I was excited but nervous at the same time (you guys probably know this feeling as well). I tried to focus on my own personal goal: to get a job that meets my short and medium term expectations. Before the fair, I had a look at the companies that were going to attend the career fair. Then, I chose the ones I would like to work with and researched about them. This is really important, and this is the way companies know that you are really interested in them, do not forget this!
What happened after the fair? Well, it usually takes some time for the companies to contact you back, although usually no more than a week. However, this depends on the position and the number of applicants. It is also important to get a local cell phone number, try to get it and keep an eye on your calls!
The coop department has an important part in this process. I received an email from my co-op program adviser, asking me if I needed some help practicing some answers for the interviews. I definitely took the offer but I also prepared the possible questions that the interviewers could ask. For example:
Tell me about yourself?
What is your Canadian work experience, if you have any? If the answer is no, what about your work experience in your country?
Are you available to work on weekends?
I got my current job at "Flyover Canada" from the last career fair at Greystone College. I actually received two offers but I ended up accepting my current position because it allows me to practice my Business Communication skills with locals and tourists.
Talking about my personal coop work experience, Flyover really got the best out of me. I would also like to say thank you to all the Coop staff for the right advice and guidance that you gave me. Because of that, I am still working in the same company and I have been able to advance my career – I was offered a new contract with medical benefits as well. Moreover, I felt motivated to pursue my new studies at another public school "just round the corner", which is going to give me the chance to reach my goals here in Canada as a professional.
Finally I would like to say to you: take this opportunity as a challenge, not only for your co-op work but also your English skills. The experience will be amazing if you do it with the courage and responsibility required and you will be able to take all that knowledge with you wherever life takes you. I know most of you are really young, and we all want to have fun in this amazing country, but why not have fun and also be the best in your career as well? Just think about it.
Keep it up and my best wishes,
Ricardo