Desperation is not usually categorized as a positive feeling. It usually feels like the end of the road and most of us try to avoid feeling it. But, according to Donald Haddad, desperation might be just exactly what you need to open the door to the life and career you want.
Donald Haddad is a customer service trainer with more than a decade's experience in the field. He is also the president of DMH Hospitality Inc and he has his own radio show Dish It Out, where he addresses issues in customer service in a variety of sectors. But when Donald was in his late thirties, he was working as a waiter and struggling with the fact that he had no idea what he wanted to do with his life. He was desperate. Donald recently came to Greystone to share his story and advice and above all to motivate us.
Be Open
One of Donald's biggest pieces of advice is to be open. You never know where or how an opportunity will present itself. Once,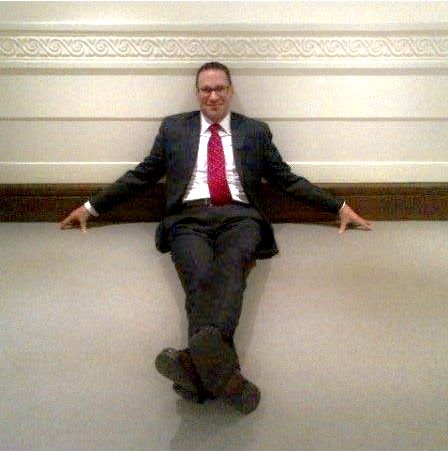 Donald cooked and served a dinner to a small group of business people. They were so impressed with his customer service skills and through a series of networks he was asked to work with the Vancouver Club. This is how his career as a customer service trainer took off.
Everything You Do Benefits You
Donald's big break also illustrates the importance of attacking every task with enthusiasm. Even though he was struggling to decide what he wanted to do with his life, he still gave stellar customer service. He maintained a positive attitude because he believes that everything you do, benefits you. His time as a waiter taught him the skills he needed to become a customer service trainer. Don't see any activity in your life as a waste. You're always learning skills, cultivating your personality and attitudes and gaining a new perspective.
School Is Good but Life Is Better
Donald trained as an actor. While that training may have helped him deliver good customer service and have the confidence to train others, what life taught him was far more important than anything he learned in school. School is usually somewhat predictable whereas life throws all kinds of unexpected obstacles and opportunities for you. How you deal with these is a far better education than anything the academic world offers.
Initiative Is Key
Now, when Donald is looking to take people on at his staffing agency, he says the number one thing he looks for is initiative. He says the number one answer he wants to hear is "I can do it". "I'd hire someone who tells me this. Even though it can be a lie, but it means they are taking the initiative", he adds.
Get out of Your Comfort Zone
How do you find the confidence to say "I can do it"? How do you equip yourself with the tools to know that that statement will eventually be true, even if isn't right now? You need to get out of your comfort zone. Usually, if you're comfortable doing something, it's because you've done it before. The only way to learn new skills is to put yourself in new situations. Inevitably, that will be a little frightening at first but the more you do it, the more you learn you can.
Thanks for the inspiration, Donald!
photo credit: Flazingo per these terms