On October 14th, Greystone College had the honor of having Jorge, one of the founders of the Toiletry Project, over to speak to our student population about their charitable work in Downtown Eastside. The toiletry project is consisted of a group of volunteers who have come together to create and deliver bags with hygienic items to homeless people living on Hastings Street.
How it all started
Jorge explained that the idea of helping people living on the streets started over dinner with a friend. Both of them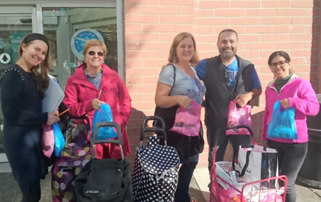 have had daily challenges with addiction and mental health issues with loved ones in their families.
They came up with the idea of a toiletry project as, in the past, when they worked on a food program the homeless would always ask for hygienic items.
At first, they started asking friends for travel-size toiletry items. In their first delivery, they were able to put together 50 bags. The second time, they delivered 100 bags.
Why?
"Before mental health issues and addictions were brought into our lives, we had very little information or understanding around these issues", said Izabel, Jorge's wife. "To be very honest, we even judged or criticized these people because we thought they chose to use drugs".
"Unfortunately, there is a saying that if you do not learn from love you will learn through pain and the pain of being helpless when it came to help a loved one is overwhelming."
Izabel was referring to Jorge's nephew, who died from an overdose at the age of 23.
"He had a family, was loved, was very artistic, was involved with sports, and was very smart; he had a lot of friends. He had a future… but all was taken by mental health illness and addiction" Jorge said. His sudden and unnecessary death opened up a new world that the couple did not know. "Don't give up, we care about you" is one of the motivational messages they write on cue cards and they would add them to the donation bags to show the homeless that there is still someone out there who cares for them.
72% of homeless people in B.C. suffer from mental illness
According to "Mental llness Leads to Homelessness in BC", an article written by Monte Paulsen on Jun 22, 2010 shows that: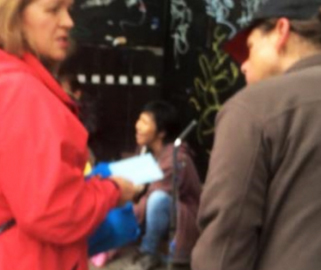 "British Columbia's homeless suffer from severe mental health challenges long before they lose their homes." "Health of the Homeless" study shows that more than half of Vancouver's homeless and mentally ill suffer from schizophrenia, which commonly manifests as auditory hallucinations, paranoid delusions, or disorganized speech and thinking, according to preliminary date from another study. Jorge said that they "learned to have compassion and we no longer "judge" those who are becoming invisible. It was my nephew. It could be my friend's daughter, or a UBC professor, a husband, a wife or father. It can happen to anyone. It can happen to us."
How can you help?
You can help by donating travel size toiletry items, making an individual bag or by donating money. If you don't have the means to make a physical contribution, one of the smallest things you could do is to simply say "hi, how are you?" to the next homeless person you come across. Most of the homeless people say that they feel invisible. A small gesture like this would mean the world to them.
What have we done?
Upon hearing Jorge's story, Greystone College students rallied together to donate toiletry items to this meaningful project. Over the course of three days, our students managed to put together over 600 travel size toiletry items!
Among them is our Business Communication class taught by Todd. They contributed to close to 200 of the donated items.
Great job, everyone!
The Toiletry Project does not currently have a website but if you are interested in donating, please feel free to contact Greystone College and we'd be happy to connect you with Jorge.